Highlights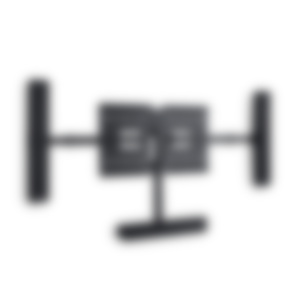 Key advantages at a glance
A wall mount for hanging televisions together with loudspeakers or soundbars
TV can be mounted to the wall flanked by front speakers with centre or soundbar below
Placement of speakers near the display keeps them out of the way & produces optimal sound
Suitable for televisions between 46 & 65 inches and up to 45 kg
Cable duct for speaker and TV cable
Easy assembly; simply, sleek deisgn
Massive steel construction
Easy installation, elegant design
This mount makes it possible to attach your television and loudspeakers to your wall as a single unit. Three adjustable steel arms can hold the front speakers as well as the centre or a soundbar. The assembly is very easy and all required tools are included with delivery.

Stow all television and speaker cables in the back for a clean, uncluttered look. The solid steel construction is extremely stable.

Loudspeakers from the following series can be attached to the mount: Varion, Columa 200, Columa 300, LT 4, Cubycon and Consono Mk3.

The following soundbars can be used with the mount: Cinebar 11, Cinebar 21, Cinebar 52 THX, Teufel Soundbar Streaming, Cinebar Trios, Cinesystem Trios

The following VESA standards are supported: Horizontal: 200 mm minimum, 600 mm maximum, Vertical: 100 mm minimum, 400 mm maximum.

The wall mount is suitable for televisions with the following space between threaded holes: 200 x 100, 200 x 200, 200 x 300, 300 x 200, 300 x 300, 400 x 200, 400 x 300, 400 x 400, 600 x 200, 600 x 300, 600 x 400 (all measurements are in mm).
Included components
VESA TV and loudspeaker wall mount
Accessories
All necessary accessories are included in the delivery.