Speaker stands not included.
Highlights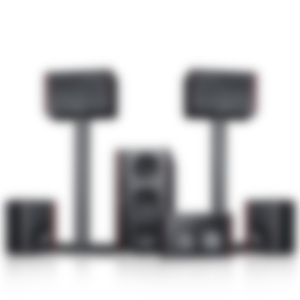 Why we love this product
We always jump at the chance to create something new while fulfilling THX's stringent requirements, in this case THX Compact Speaker System certification.
Key advantages at a glance
Small size along with multiple set-up options allow for easy room integration<br />
Delivers a full cinema experience in small and medium-sized rooms
Reproduces balanced sound over the entire frequency range
The stylish compact design packs a big acoustic punch
A miniature masterpiece for hifi fans and movie buffs
Compact 2-way flat membrane satellite speakers
2-way dipole surround speakers create an authentic cinema atmosphere
Suitable for use with all A/V receivers, even those without THX licensing
Speaker stands not included.
Features
All technologies at a glance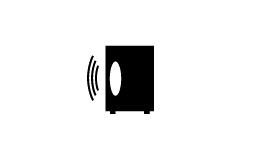 Front-firing subwoofer
Bringing cinema sound to your living room
The System 4 offers all the advantages of THX tested and certified acoustics, but is small enough to be easily integrated into any living space. The ability to reproduce not only movie soundtracks but all kinds of music at the highest Hi-Fi level makes the System 4 an excellent and very versatile 5.1 home cinema set.
Included components
System 4 THX
3 × Satellite Speaker S 400 FCR – Black
1 × Subwoofer S 4000 SW – Black
1 × Pair Dipole Speaker S 400 D – Black

1 × Dipole Speaker S 400 D – Black
1 × Dipole Speaker S 400 D (Right) – Black
Speaker stands not included.
Specifications
Satellite Speaker S 400 FCR

High-performance THX satellites with flat membrane technology for wide and uniform dispersion. 100 mm woofers and 25 mm tweeters reproduce a rich, full, and detailed sound equally well for movie soundtracks and music.

| | |
| --- | --- |
| Width | 29 cm |
| Height | 19 cm |
| Depth | 13,5 cm |
| Weight | 5,5 kg |

| | |
| --- | --- |
| Terminal clamps | Screws |
| Minimum amplifier output power recommended | 20 W |

| | |
| --- | --- |
| Suitable for AV receiver | Yes |
| Suitable for banana plug | Yes |
| Maximum cable diameter | 6 mm |
| Diameter of the stand screw threads | 6 mm |
| Removable front cover | Yes |
| Enclosure material | MDF |
| Enclosure surface | Lacquer, matte + laminate |
| Magnetic shielding | Yes |
| Net internal volume | 3,8 L |
| Wall mounting brackets | Yes |
| Tweeter (number per enclosure) | 1 |
| Tweeter (diameter) | 25 mm |
| Tweeter (material) | Silk |
| Bass/Midrange driver (number per enclosure) | 2 |
| Bass/Midrange driver (diameter) | 100 mm |
| Bass/Midrange driver (material) | cellulose |
| Continuous power handling (IEC - Long Term) | 100 W |
| Sensitivity (2.83 V / 1 m) | 87 dB |
| Frequency range | 120 - 22000 Hz |
| Peak power capacity (IEC - Short Term) | 130 W |
| Maximum sound pressure level | 102 dB/1m |
| Impedance | 4 - 8 Ohm |
| Crossover frequency to Woofer (recommended) | 120 - 140 Hz |
| Acoustic principle | 2-way-system |
| Enclosure type | Closed |
| Crossover frequency internal switch | 2200 Hz |

Subwoofer S 4000 SW

A slender THX subwoofer with 3  X 130 mm woofers - each with an enormous 8 mm of excursion - produces ultra deep bass all the way down to 35 Hz.


| | |
| --- | --- |
| Width | 24,5 cm |
| Height | 49,5 cm |
| Depth | 50 cm |
| Weight | 20,8 kg |

| | |
| --- | --- |
| Cinch input | 1 |

| | |
| --- | --- |
| Power supply voltage | 230 V |
| Automatic on/off | Yes |
| Maximum power consumption | 250 W |
| Mains cable - IEC connector (non-heating device) | Yes |
| Safety class | 2 |
| Storage for settings when disconnected | Yes |
| Standby-Function | Yes |
| Standby-Power consumption | 0,4 W |
| Input gain adjustment | Yes |
| Frequency regulator (range) | High pass: 20 - 50 Hz |
| Level control | Yes |
| Phase control | Yes |
| Power output capacity sinus (RMS) Bass | 150 W |
| Power output capacity impulse (peak) Bass | 200 W |
| Amplifier configuration | 1.0 |
| Amplifier technology | Class D |
| Amplifier channels | 1 |

| | |
| --- | --- |
| Lowest frequency (-3 dB) | 35 Hz |
| Suitable for AV receiver | Yes |
| Equalisation openings (pos.) | Front |
| Equalisation openings | 2 |
| Removable front cover | Yes |
| Frontfire | Yes |
| Enclosure material | MDF |
| Enclosure surface | Lacquer, matte + laminate |
| Magnetic shielding | Yes |
| Integrated stand | Yes |
| Woofer (number per enclosure) | 3 |
| Woofer (diameter) | 130 mm |
| Woofer (material) | cellulose |
| Frequency range | 35 - 200 Hz |
| Maximum sound pressure level | 102 dB/1m |
| Acoustic principle | 1-way-system |
| Enclosure type | Bass reflex |

Dipole Speaker S 400 D

THX dipole loudspeakers create authentic cinema sound with 2 midrange drivers (100 mm) and 2 tweeters (25 mm). Integrated keyhole brackets allow the speakers to be easily wall mounted.

| | |
| --- | --- |
| Width | 15 cm |
| Height | 23 cm |
| Depth | 17 cm |
| Weight | 3,5 kg |

| | |
| --- | --- |
| Terminal clamps | Screws |
| Minimum amplifier output power recommended | 20 W |

| | |
| --- | --- |
| Suitable for AV receiver | Yes |
| Suitable for banana plug | Yes |
| Maximum cable diameter | 6 mm |
| Removable front cover | Yes |
| Enclosure material | MDF |
| Enclosure surface | Lacquer, matte + laminate |
| Magnetic shielding | Yes |
| Net internal volume | 2,3 L |
| Keyhole plate mounted | Yes |
| Tweeter (number per enclosure) | 2 |
| Tweeter (diameter) | 25 mm |
| Tweeter (material) | Silk |
| Bass/Midrange driver (number per enclosure) | 2 |
| Bass/Midrange driver (diameter) | 100 mm |
| Bass/Midrange driver (material) | cellulose |
| Continuous power handling (IEC - Long Term) | 70 W |
| Sensitivity (2.83 V / 1 m) | 86 dB |
| Frequency range | 120 - 22000 Hz |
| Peak power capacity (IEC - Short Term) | 100 W |
| Maximum sound pressure level | 100 dB/1m |
| Impedance | 4 - 8 Ohm |
| Crossover frequency to Woofer (recommended) | 120 - 140 Hz |
| Acoustic principle | 2-way-system |
| Enclosure type | Closed |
| Screw hole diameter | 6 mm |
| Crossover frequency internal switch | 3500 Hz |